Flights To Austria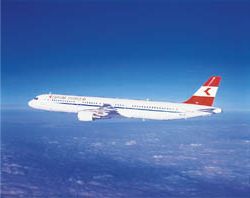 We're sure you'll agree, getting to the ski resort needs to be easy, particularly when you have children in tow.
Kaprun is very accessible and from the UK can be reached by aeroplane, train or self-drive. We have researched several options for you and share these below. Several of the combinations we have tested personally.
Our strong recommendation is to fly to Salzburg Airport (85km from Kaprun) and hire a car to give you maximum flexibility. Innsbruck or Munich (180km) are viable as alternatives if the UK departure airport works better for you and you don't mind a longer transfer.
Who to fly with
We prefer using the scheduled airlines (FlyBe, ThomsonFly and Ryanair to Salzburg in particular) as they offer the greatest transparency of flight times and often some great prices. However, you may be able to source a charter flight-only deal (with transfer to resort included if you really strike it lucky). The charter deals are more difficult to find and pricing is very variable.
Scheduled flights from the UK
| | | | |
| --- | --- | --- | --- |
| | | | |
| | To | Salzburg | |
| | From | London Stansted | |
| | | Birmingham, Southampton, Glasgow, Edinburgh | |
| | | Coventry | |
| | | | |
| | To | Innsbruck | www.innsbruck-airport.at |
| | From | London Gatwick | |
| | | | |
| | To | Munich | www.munich-airport.de |
| | From | London Stansted | |
| | | Heathrow, Gatwick, Bristol | |
| | | Heathrow, Birmingham, Manchester | |
| | | Newcastle | |
| | | London City | |
Transfers
The journey time to the resort on four wheels from the airports is roughly as follows, although it does of course vary with the weather conditions, traffic and means of transfer
Salzburg (1 to 1 ½ hours)
Innsbruck (2 hours)
Munich (2 ½ hours)
Salzburg airport is incredibly modern and well thought out. Hire cars are readily available within an easy trolley push (but pre-book). The motorway is easily accessed within minutes and the extremely scenic 100km drive to Kaprun is around 75 minutes by motorway and main road. An alternative non-motorway route via Lofer is shorter (85km), but takes about the same time. We can provide you with a set of foolproof detailed directions - it really is an easy valley drive with no high passes or hair pins to negotiate.
And if you're worried about driving in the snow, don't be. This is Austria. They are geared up for this kind of weather and will not provide lame excuses about it being "the wrong kind of snow". Unless there are exceptionally bad weather conditions, you should find clear and well-maintained roads for the entire journey. Of course, you could hire or buy snow chains if you really want to be on the safe side. When booking a hire car ask whether this car has "winter reifen" (winter tyres) which negate the need for chains in all but extreme conditions.
Alternatively, you can also use the airport coach, or train transfer, to Zell am See. Kaprun is then a short 10 minute bus ride - or share a taxi door-to-door.
If you are not hiring a car you have four choices at Salzburg airport - charter coach, scheduled coach, train or taxi.
Charter coach
If possible, strike a deal (at the airport or preferably in advance) with one of the tour operators as they often have spare capacity on their transfer coaches to the resort. At the airport itself, pricing is usually negotiable with the tour operator reps or driver.
Scheduled coach or bus
However, (for those of you less inclined to haggle and chance it!) there is a locally operated scheduled coach transfer from Salzburg airport to Zell am See (€ 19 one way, € 29 return - half price for children) operated by www.vorderegger.at (also at www.airportexpress.at ). This runs twice daily (not Monday or Tuesday) but may mean that you will need to hop in a taxi or ski bus for the last 10 minute leg from Zell to Kaprun which may not be that convenient for groups with luggage. Sometimes they will extend the transfer to Kaprun on request.
There is an even cheaper (1hr 47min) public bus service to zell (no.260) if you are prepared to take the short bus ride into the centre of Salzburg.
Coach Timetable

To Zell am See from Salzburg airport

From Zell am See to Salzburg airport

10.30 dep Salz Air
11.45 arr Zell
06.45 dep. Zell
08.00 arr. Salz Air
21.55 dep Salz Air
23.10 arr Zell
18.00 dep. Zell
19.15 arr. Salz Air
We would recommend this option for individual members of your party who maybe need to arrive later or leave earlier in the week for whatever reason. The same operator also runs a schedule service to and from Munich Airport.
Train
Similarly, there is a mainline train route between Salzburg City and Zell am See which operates more frequently than the coach transfer. This is the Austrian website for train timetables - www.oebb.at
Taxi
Don't dismiss this option. Standard fare for up to 8 passengers seems to be between €120 and €140 single. Ask the driver for a card and he'll happily pick you up for the return journey. Don't be afraid to haggle a little.
If you want to book ahead try Ingo Tours ([email protected]). They operate people carriers and small mini busses from Salzburg airport to Kaprun and elsewhere.